NEHOC Hi-Res Spirit Paper Carrier | Studio Quality Heavy Duty | High Resolution
High resolution carrier for sharper results
NEHOCSKU: R-TCA4
---
HiRes Carriers use a commercial grade polycarbonate, bound using high temperature Kapton tape. For file lines and sharpest results onto Spirit tattoo paper and S8 Spirit Paper.
---
$14.96
RRP $17.95
SAVE $2.99
In Stock
HiRes Carrier are used for fine lines and sharp results using a special trade quality polycarbonate to allow the maximum IR penetrate.
Bound using high temperature Kapton tape, the carrier is the same both sides, giving you double the carrier life, however the poly construction will mark and scratch easily compared to Teflon Carriers. For this reason they are not recommended for daily general usage in a studio.
- Trade quality polycarbonate cover for sharp results
- High temperature Kapton tape header tape
- Cut header corners to avoid jamming
- Use either side (doubles the carrier life)
- Protective storage envelope
Problems with homemade carriers
Patchy results, faint edges, graining, blurring, jamms and melting . . .there's a long list of problems we hear all the time.
It's not the light tattoo copiers use to make a spirit stencil - it's a high frequency IR reacting with the carbon in the design, so if your plastic absorbs the IR wavelengths you get poor results.
Pictured right is a home made carrier taped together with faint edges - caused by the plastic absorbing the IR, the further from the middle the fainter the IR and it's not evenly absorbed.
HiRes Carriers are tested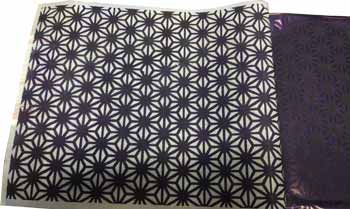 The high grade polycarbonate allows the IR to pass through onto your spirit paper to provide sharp retuls.
Solid designs, fine lines and consistent copies is what your after and what a NEHOC HiRes Carrier will provide.
Don't piece together 2 pieces of plastic at home, it may be cheaper, but that's not how thermal-copiers work and you will receive poor quality results and waste both your artwork and the spirit paper.
Worse still, you may stick/ jam the carrier onto the glass roller with tape that isn't heat resistant (and melts) causing serious damage to the machine.
HiRes carriers use high temperature rated Kapton Tape that will not melt, even if the carrier gets stuck.
Note: A4 Thermal-Copier Machine is for illustration/ application/ usage purpose only and not included or part of this sale.
Cove/ Backing: Trade Polycarbonate
Header: Kapton Tape (High temperature rated)
Code: R-TCA44
Size: 330 x 250mm
Storage: Resealable envelope with instructions
Pack: Each
| | |
| --- | --- |
| SKU | R-TCA4 |
| Barcode # | 9334315030515 |
| Brand | NEHOC |
| Shipping Weight | 0.0800kg |
| Shipping Width | 0.325m |
| Shipping Height | 0.005m |
| Shipping Length | 0.240m |
| Shipping Cubic | 0.000390000m3 |
| Unit Of Measure | ea |